Sodding and Seeding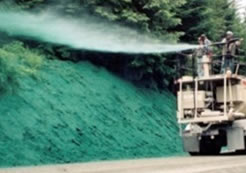 Nothing can increase curb appeal more than a well manicured lawn. Depending on the season or budget we offer a full range of lawn installation options. Contact us for more information on sodding, seeding or hydroseeding…
Hydroseed
Hydroseeding is hydraulic mulch seeding process. It is a planting method which utilizes slurry of seed and mulch combined together in a tank for spray installation.
We carry Fibremulch products which produce a protective layer of mulch, reducing the effect of wind and rain erosion while protecting the seed and soil from the elements. Fibramulch also absorbs water which gives the seed a more continuous and consistent amount of moisture to enhance germination. Fibramulch helps insulate the seed from temperature fluctuations while providing the seed with a moist organic medium to flourish.
This type if installation is usually found on steep banks, slopes and ditches. Erosion control blankets can also be beneficial, please contact us for more information on erosion control options.